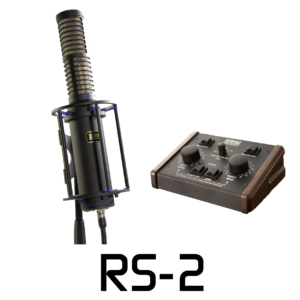 The HUM Audio Devices RS-2 is extraordinary, it's a complete recording system with sound and features never before found in any of the top class ribbon microphones.  Huge, larger than life, sound with a lot of depth and detail and, at the same time, preserves the classic ribbon sound flavour so much beloved by musicians and engineers.
"It's amazing on grand piano, the depth in the sounds is incredible. 
Distant room mic. on drums is incredible too, the low end is huge.
I didn't think a microphone could be worth that kind of money but I stand corrected."
Main Features
TWO MODES – can be used acive or passive
HIGH END MIC. PRE-AMPS – High End, discrete class-A microphone pre-amplifiers are built into the microphone body
RIBBON MOTORS – Custom made 1.8 micron aluminium foil ribbon motors
REMOTE CONTROLLED – Remote control system gives access to all functions via a single XLR cable
LOW-CUT FILTER – Switchable Low Cut Filter (50Hz, 80Hz and 120Hz)
AIR BOOST MODE – Air Boost mode gives a very smooth Pultec style HF boost
M/S MATRIX – Transformer based M/S matrix
DIMM OPTION – Very useful DIMM option protects loudspeakers during microphone positioning
ROTATABLE HEAD – Rotable microphone head for fast change between L/R to M/S position.  The HUM logo is always to the front for accurate alignment and the heat can be rotated depending on whether XY or M/S is being used
HIGH GAIN and HEADROOM – High gain and a huge headroom – so there is no worry about high source SPL
ANTI-VIBRATION SYSTEM – Dual anti-vibration system (both external and internal)
CUSTOIM-MADE CABLES  – Custom made signal and power cables are supplied with the system and other lengths available to order
LUNDAHL TRANSFORMERS – No compromise Lundahl microphone and line output transformers are used in the system
SHORT SIGNAL PATH – Extremely short signal path for highest quality
AUDIOPHILE QUALITY – Audiophile quality selected components
NO ELECTROLYTIC CAPACITORS – No electrolytic capacitors are used in the signal path.  Electrolytic capacitors can dry out over time and can compromise the sound quality, to overcome this, no electrolytic capacitors are used in the signal chain
What you get:
The RS-2 system contains:-
RS-2 stereo ribbon microphone
RS-2 remote control unit
RS-2 power supply
Custom Cable Set – microphone to PSU cable, mains cable, remote control cable
Mic. Head dust cover
Flight Case
RS-2 Session Recall Sheet
(this is a printable sheet for the user to fill in microphone settings for recall in later sessions)
---
---