Papers and Presentations
This page contains links to various papers and presentations.
---
---
The Ins and Outs of Microphones
This presentation by John Willett was presented at BVE 2017 and also at the European AES Convention in Berlin and PLASA London the same year.  It is the latest version of a presentation on Microphone Basics that was also presented at the AES in Paris in 2016.  It discusses microphone types, polar-patterns, proximity effect, microphone distance and room acoustics.  An extended presentation is being prepared for the Institute of Sound and Communications Engineers.  This is the latest, updated, version.
The pdf of the annotated handouts of the PowerPoint presentation is HERE
---
Improving the Low Frequency Directivity of Line-Array Microphones
This paper was presented by John WIllett and Microtech Gefell's Udo Wagner at the Institute of Acoustics Recorded Sound conference in Manchester in 2013.  It details the new KEM 975 line-array microphone and the Delta capsule that increases the directivity at low frequencies.  There is also a PowerPoint page that includes embedded audio to illustrate the effects of the Delta Capsule.
The pdf of the IoA paper is HERE
The PowerPoint slide with illustrative sound files can be downloaded HERE
---
Digital Microphones – AES42 and all that
This presentation by John Willett was presented at the 24th AES UK Conference "The Ins and Outs of Audio" in 2011.  It is a slightly more detailed version of the paper he gave at the AES Convention in London earlier in the year.
The pdf of the AES paper is HERE
---
Digital Microphones – What's it all about?
This presentation by John Willett was his first AES paper on digital microphones and was presented at the 130th AES Convention in London in 2011.
The pdf of the AES paper is HERE
---
Recording Surround Sound with Height
This presentation by the late Mike Skeet with the help of John Willett was presented at the 25th AES UK Conference "Spatial Audio in Today's 3D World" in 2012.  Mike waxes lyrically on his microphones and experiments on recording music in 5.0 with an additional 4 microphones / loudspeakers for the height information.
The pdf of the paper is HERE
---
---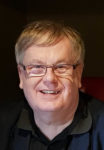 John Willett is the Managing Director of Sound-Link ProAudio Ltd. who are the official UK distributors for Microtech Gefell microphones, ME-Geithain studio monitors, AETA Audio codecs, Håkan Pop Killers, True Phantom, the Maier Sound "Turtle" boundary microphone adaptor and HUM Audio Devices ribbon microphones.  He purchased Sound-Link from the previous owner in 2012.  He is also a freelance consultant, writer and classical music recordist.  He established Circle Sound Services (his recording business) in 1978, initially as a "spare time" business.  He has recorded a number of CDs including one in Classic FM's "Full Works" series and is well regarded for his solo piano recordings.  He recently recorded the inaugural concert for "Sono Vivo", a charity that performs classical music concerts to raise money for cancer charities. 
Microphones have always been his passion as is also his desire to "capture the performance". He has been recording digitally since 1983 and (according to "Music Week") was the first to produce an album by digitally overdubbing using a pair of PCM-F1 units. He has been using digital microphones since 2006 and is regarded as an expert on the subject.  He has written for several publications including Sound On Sound and Line Up and has presented several papers at AES conferences as well as one to the Institute of Acoustics. He is a past President of the International Federation of Soundhunters and was Chairman of the British Sound Recording Association for many years.  He is on the Executive Committee of the Institute of Professional Sound.  He is also a member of the APRS, ISCE and is a Life Member of the AES.  In a past life he was Technical Manager at Sennheiser UK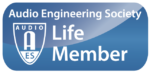 ---