The Håkan P110 Pop Killer from Swedish microphone specialist mikrofonen.se is a very special pop killer that is specifically designed to effectively prevent plosives (pops) and, at the same time, to eliminate the audible colouration that other pop filters often display.
It is extremely effective in killing pops without compromising the frequency response and character of the microphone.
The foam used in the P110 was carefully researched to maximise pop protection and minimise colouration – the specially selected foam is "hydrophobic"; this means that it will not absorb water.  So moisture from the breath will not be absorbed by the foam and therefore does not stay on the filter to distort and colour the sound.
Most pop filters are known to colour the sound.
Measurements made by mikrofonen.se in Sweden have proven this.
The colouration is clearly audible (red curve on the graph).
With the Håkan P110 Pop Killer (blue curve) there is no colouration.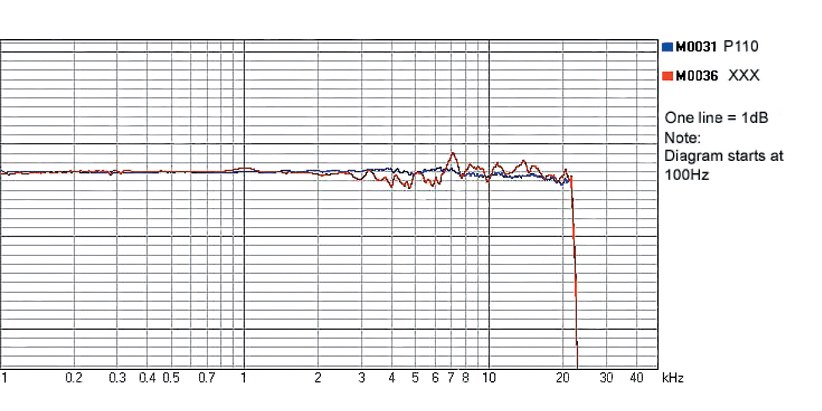 Graph showing Pop Killer and fabric pop filter
Versions:
Universal version – with a 3/8″ thread for mounting to microphone stands, etc.
Gooseneck Std. ¾" clamp version – Standard gooseneck version for clamping to a microphone stand
Gooseneck 1″ clamp version – Gooseneck version for clamping to a larger microphone stand   NEW
Gefell EH93P version – for use with a Gefell EH 93P shockmount with an M 930 / M 940 / M 950 microphone
Gefell Ts version – for use with a Gefell EH 93P shockmount with an M 930Ts microphone
Brauner version – for use with a Brauner Phantom / Valvet / Phanthera microphones – clips to the Brauner suspension
Neumann BCM version – for use with the Neumann BCM 705 or BCM 104 microphones.  Clips to the microphone
INV-7HG-V version – for use with a Rycote INV 7HG III suspension with a vertically mounted Gefell UMT 70S / MT 71S microphone   NEW
NV-7HG-H version – for use with a Rycote INV 7HG III suspension with a horizontally mounted small diaphragm condenser microphone   NEW
(The INV-7HG-V and INV-7HG-H versions are delivered complete with a captive fixing screw with washer and fixing tool)
"To my ears the P110 is completely transparent and brilliantly effective … it sounds more transparent than all of them and is far better engineered than most.  If you are in need of a pop screen – and who isn't? – I can't recommend the Håkan P110 highly enough"
Hugh Robjohns, Sound On Sound, February 2014
Download the PDF of the above review HERE

Sound On Sound, Spotlight on microphone accessories – Håkan P110   (July 2014)
Documents:-
Data Sheet
Price List – May 2017
Fitting Instructions for INV-7HG-V and INV-7HG-H versions
How to mount the P110 Brauner version onto the Brauner elastic suspension
---