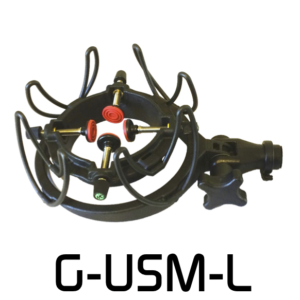 Universal microphone shock-mount suitable for microphones weighing up to 400g in weight (750g vertical only) & between 18mm and 55mm in diameter.
A universal mic mount – fits any large-diaphragm recording microphone from 18 to 55 mm in diameter

Offers up to twice the isolation from cable and stand-borne noise of traditional elasticated microphone mounts

Virtually indestructible

No elasticated parts – never sags or needs rethreading
Suspension weight: 154g (5.4 oz)
Overall diameter: 120mm (4.72″)
Mic diameters: 18-55 mm
Microphone length: up to 300 mm
Maximum Weight (vertical): 750 g (26.5 oz)
Maximum weight (horizontal): 250g (17.6 oz)
Suspension Rotation (maximum): 175%
The G-USM-L is a Sound-Link / Microtech Gefell special.  It is based on the Rycote USM-L mount and sells for about the same price.  The main differences are the green Gefell logo on the adjusters and the black "Lyre" suspensions (instead of the red Rycote ones) – the microphone pads are red to clearly differentiate the G-USM-L from the G-USM .
SPECIFICATIONS:
Height: 70mm
Length: 170mm (6.69″)
Width: 120mm
Net Weight: 155.6 grams
Compatibility:
M 930 ………. vertical and angled use
M 940 ………. vertical and angled use
M 950 ………. vertical and angled use
M 990 ………. vertical and angled use
M 92.1S ……. vertical and angled use
MT 71S …….. vertical and angled use
UMT 70S ….. vertical and angled use
UM 92.1S …. vertical use only
NB: this is just a guide – the G-USM-L will fit most current and historic Gefell microphones under 55mm in diameter and under 400g in weight (750g vertical only)