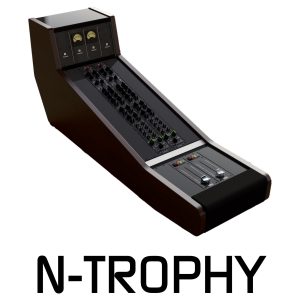 The N-TROPHY is an all-discrete analogue mixing console of the very highest quality
Customer specified from 8-channels up to 64-channels
The HUM Audio Devices N-Trophy is a large format all-discrete analogue mixing console built to very high specifications

This is a new product due for release at the end of 2022 (first consoles due Seoptember).
Sound-Link will have a working demonstration unit comprising of a couple of channel strips shortly – this will be available for potential customers to try out and evaluate for themselves.
The production consoles will be bespoke, individually built to order, and can be specifiled with a minimum of 8 input channels, up to a maximum of 64.
Main features of a single channel:
MIC/LINE preamp based on legendary JE990 discrete opamp
Valve (vacuum tube) optical compressor with blending knob and S.C. filter
Passive EQ with separate frequency knobs for BOOST and CUT
THD stage with selectable distortion type (symmetrical and asymmetrical)
Custom made audio transformers
Switchable external insert with blending knob
ORDER switch to select order of Compressor, EQ and Insert
In-line structure with "B" Volume and "B" Pan knobs
8 mono (4 stereo) AUX with selectable source (fader "A" or "B")
8 Group sends
Sifam VU meter with selectable source (incl. compressor G.R.)
DIRECT output with volume knob and source selector
Flying Fader automation with DAW controlling ability
(±24V) internal powering for very high headroom
Solid aluminium knobs, ALPS pots and gold-plated switches
7cm wide channel for comfortable operation
Each channel has independent connection with summing stage in the master section. It allows the reduction of the summing bus lenght to only 5″ (12.5cm).
Custom configerable from 8 channel inputs up to a maximum of 64 channel inputs (in steps of 8 channels)
SPECIFICATIONS
This is a new product and details will be added here as they become available
This is a new product coming in late 2022 – this is already having a lot of interest.  Sound-Link will receive a demonstration unit shortly.  We are already creating a list of people wanting a demontration loan – please contact us if you wish to be added to the list.
---
NB: Picture is of the demonstration channel strips – we will upload more pictures as they become available