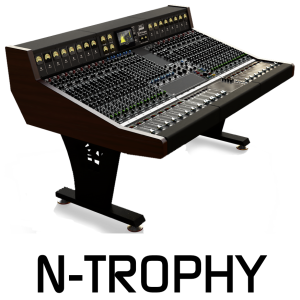 The N-TROPHY is an all-discrete analogue mixing console of the very highest quality
Customer specified up to 64-channels
The HUM Audio Devices N-Trophy is a large format all-discrete analogue mixing console built to very high specifications and with some very unique features not found in other consoles.  It is designed by a mixing engineer for mixing engineers and is very ergonomic in use.

This is a new product released in July 2023.
We are currently updating this page with information as we receive it – please download the 8-page PDF data sheet from the link further down the page which contains all the info and specs. There is an additional Dimension sheet which gives the dimensions and size options of the console.

Sound-Link now has a working demonstration unit comprising of four channel strips – this is available for potential customers to try out and evaluate for themselves.
The production consoles will be bespoke, individually built to order, and can be specifiled with 0 to 64 channel strips, giving up to 136 inputs at mixdown.  It can grow with you and extra 8-channel sections can ber ordered at a later date and the console easily expanded as your studio grows.  It's easy to connect the extra section yourself and there is no need to send the console back to the manufacturer to do this.  You can even split – a 32 input console can easily be split to make two 16 input consoles by purchasing a master section for the second console.  It's extremely flexible.
Main features of a single channel:
MIC/LINE preamp based on legendary JE990 discrete opamp
Valve (vacuum tube) optical compressor with blending knob and S.C. filter
Passive EQ with separate frequency knobs for BOOST and CUT
THD stage with selectable distortion type (symmetrical and asymmetrical)
Custom made audio transformers
Switchable external insert with blending knob
ORDER switch to select order of Compressor, EQ and Insert
In-line structure with "B" Volume and "B" Pan knobs
8 mono (4 stereo) AUX with selectable source (fader "A" or "B")
8 Group sends
Sifam VU meter with selectable source (incl. compressor G.R.)
DIRECT output with volume knob and source selector
Flying Fader automation with DAW controlling ability
(±24V) internal powering for very high headroom
Solid aluminium knobs, ALPS pots and gold-plated switches
Main fader is a 250-position switched fader with smooth operation and with perfect accuracy channel to channel
7cm wide channel for comfortable operation
Each channel has independent connection with summing stage in the master section. It allows the reduction of the summing bus lenght to only 5″ (12.5cm).
Custom configerable from 8 channel inputs up to a maximum of 64 channel inputs (in steps of 8 channels)
Main features of the MASTER section:
the Master section is a full-featured mastering console, with up to 8 stereo stems
equipped with a passive monitor controller for 4 pairs of monitors plus main heaphones (256 steps relay switches)
3-slot insert matrix with blending on slot #1
M/S decoder and encoder switchable anywhere between sum processing slots
Valve (vacuum tube) Master Compressor and passive 6 band equaliser with filters available in the sum chain (they are treated as two additional slots in the insert chain)
Stereo expansion (similar to the one in the LAAL mastering limiter) on the sum and 4 stereo stems
Together with the LAAL, the N-Trophy's Master Section forms a complete stem mastering system.
The below link will download the 8-page PDF full data sheet on the N-Trophy
N-Trophy Console Data Sheet
N-Trophy Dimensions and size options
SPECIFICATIONS
This is a new product and details will be added here as they become available
(latest update: 25th July 2023)

This is a new product that had its worldwide launch at GearFest in London in July 2023 – this is already having a lot of interest.  Sound-Link now has a demonstration unit  – please contact us if you wish to be added to the list.
---
NB: Picture is of the demonstration channel strips – although our demonstration unit has four channel strips, rather than the two shown in this picture.