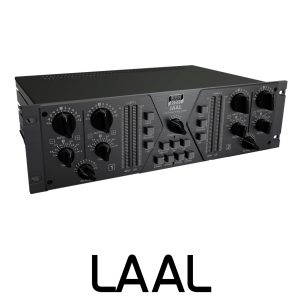 The HUM Audio Devices LAAL is a high quality 2 channel Look Ahead Analogue Limiter
Another baby from HUM Audio is very close to being finished.
HUM Audio are extremely excited to introduce the new LAAL (Look Ahead Analog Limiter).
An innovative idea of the detection and limiting process have allowed HUM Audio to achieve a new standard in analogue mastering.
One of the strongest advantage of the design is a fully analogue (200 microseconds) delay line to obtain a "look ahead" ability. Thanks to this. the detection circuit is able to react to even the fastest peaks.
Another extraordinary feature of the limiter is the DYNAMIC TRANSIENT function. It regenerates transients proportional to the limiting level. In a few words, you can achieve great RMS at minimum side effect.
The final addition is a STEREO WIDTH circuit that works differently and is more musical comparing to similar processors.
The picture presents a visual rendering based on final CAD project so it will look exactly the same (apart from minor changes to the inscriptions).
All discrete analogue signal path
Very high headroom (+/-24V int. powering)
Analogue LOOK AHEAD circuit
Variable STEREO WIDTH function
DYNAMIC TRANSIENT function
Variable Release Time (from 2ms to 100ms)
Highest quality audio transformers
Precision led metering (0.5dB steps)
Peak Hold function for gain reduction meter
Precision input/output setting (0.2dB steps)
Stereo link for detection
Limiter Bypass
Hard Bypass
Rotary step switches for all control knobs
SPECIFICATIONS
This is a new product – further details will be added here as they become available.
This is a new product coming in early 2022 – this is already having a lot of interest.  Sound-Link will receive a demonstration unit expected late February / early March.  We are already creating a list of people wanting a demontration loan – please contact us if you wish to be added to the list.
---