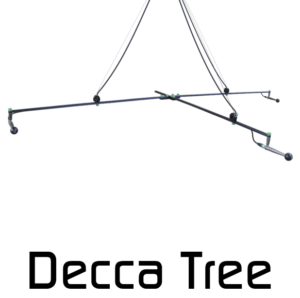 Flexable and versatile Decca Tree
Modular and flexible

Easy to set up and pack away
The Gefell Decca Tree is available in two sizes: the small one is 120 x 60 cm and the large one is 230 x 120 cm.
Decca Tree Set 1 (120 x 60cm) – 3 x 57cm bars, 1 x T-piece
Decca Tree Set 2 (230 x 120cm) – 6 x 57cm bars, 1 x T-piece, 3 x jointing pieces
Both sets include mounting screws with nylon washers
They can be stand mounted, or slung by using the optional hanging brackets.
The microphone positions are adjustable and the arms have distance markings to make mounting the microphones easy and repeatable. Each slot is marked with 1cm graduations on the top and 5cm graduations along the side.
Pictured with the M 221 microphone with the KA 4 (4cm ball), it can be used with a wide variety of microphones from many manufacturers.
The M 221 is available as a matched set of 3 for use with the Decca Tree.
Due to the flexible nature of the design of the Decca Tree, a single arm can be used as a wide stereo bar when a tree is not needed.  EG: perfect for a stereo pair with omni outriggers.  Extra green mounting screws are available should mounting extra microphones be required.
---