Veneer Options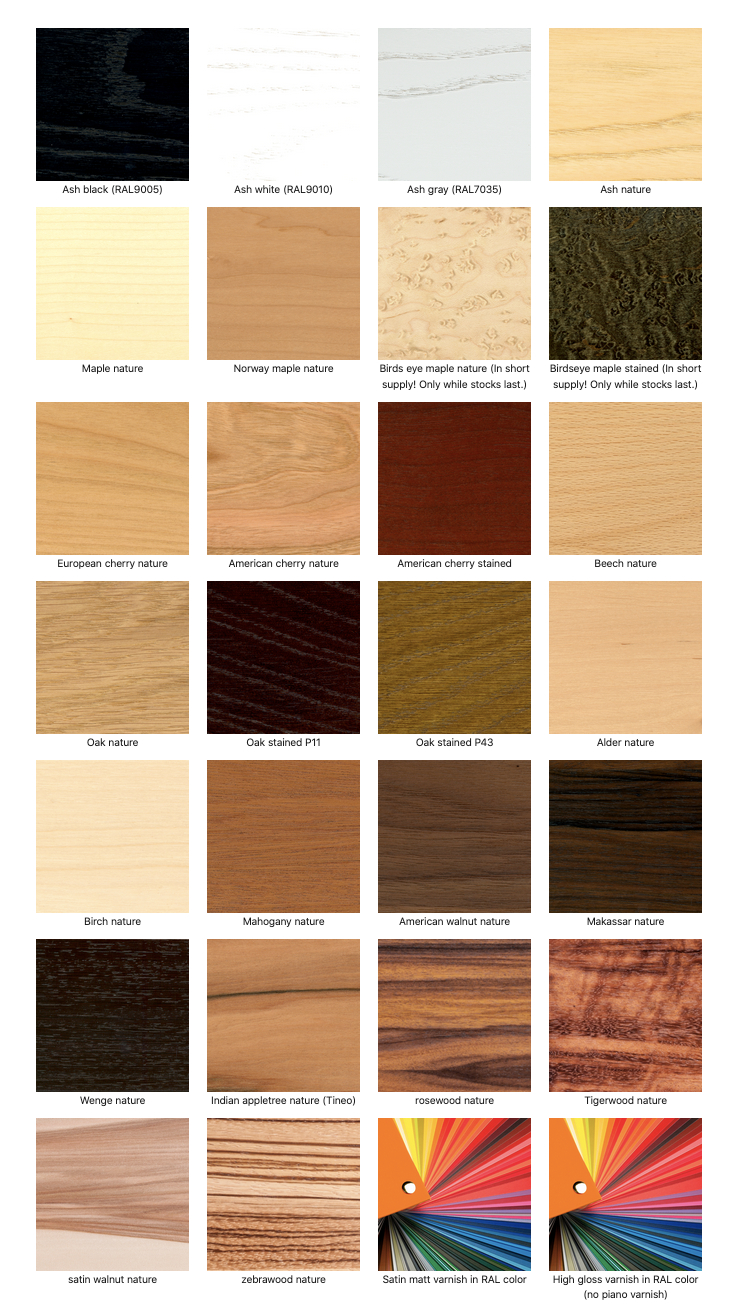 ME-Geithain monitor loudspeakers are available in a large number of veneer oprions, or painted to your choice of RAL colour in high gloss or a semi-gloss finish ("Piano" gloss is not available).
The standard veneer finish is black ash (RAL9005), optional veneers and colours are also available
ME-Geithain offer theiur loudspeakers in a standard veneer "black ash" (RAL9005) or, for an additional charge, different optional veneers or optional colours are available.  This page provides an overview on the optional veneer and lacquer styles.  You can click on the names below to see a picture sample, or scrioll through the picturte samples at the bottom of the page.
If what you desire is not shows, please contact us as ME-Geithain are also pleased to check if your desired individual veneer or colour can be realised.
NB: 4 new finishes added (see below): Rosewood, Tigerwood, Zebrawood and Satin Walnut.
The standard options are:
Ash stained black (RAL9005)  – standard finish
Ash stained white (RAL9010)
Ash stained grey (RAL7035)
Ash – natural
Maple – natural
Norwegian Maple  – natural
Bird'sEye Maple – natural
Bird'sEye Maple – stained
European Cherry – natural
American Cherry – natural
American Cherry – stained SU038
Beech – natural
Oak – natural
Oak – stained P11
Oak – stained P43
Alder – natural
Birch – natural
Mahogany – natural
American Walnut – natural
Makassar – natural
Indian Apple (Tineo) – natural
Wenge – natural
Rosewood – natural
Tigerwood – natural
Zebrawood
Satin Walnut – natural
Semi-gloss Lacquer (RAL colours)
High-gloss lacquer to (RAL colours)  (NB: Not piano finish)
Important information about deviations from sample patterns:
Wood is a natural product.  Even the most thorough manufacturing can result in deviations in colour or structure and is not a cause for complaint. Please also note that images are represented differently on every screen and hence not colour-proof.